Have you ever wanted to design a simple membership site that showcases your talents, thoughts, and personality? Now you can, with Memberlite Words, a child theme of our popular Memberlite WordPress theme.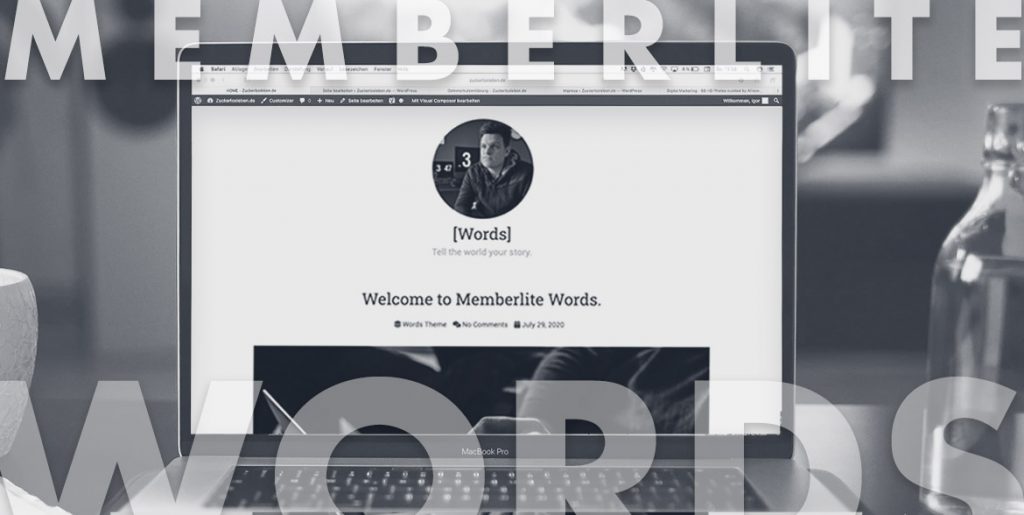 Download Memberlite Words View Demo
About the Theme
Memberlite Words is a lightweight child theme. Designed to be minimalistic and unobtrusive. Letting your content be the hero of this story. Perfect for writers, bloggers, and content creators. Memberlite Words makes it easy to tell the world your story.
Use Memberlite Words as a platform to share your thoughts and ideas. We have also integrated Memberlite Words to work with Paid Memberships Pro, the popular WordPress Membership plugin. This integration opens up a lot of possibilities for you, the creator. Build a "Go Fund Me" style website, restrict content your content behind a paywall, or build a community around your personal brand.
Created for the creator, Memberlite Words gives you the power to publish content beautifully.
---
Who is Memberlite Words for?
Time and time again, we came across members who wanted to build a simple membership site around their own personal brand, talent, or artistry. Memberlite Words was designed as a single author blogging theme. For the person who wants to stand out from the crowd. The artist, the creator, and the individual.
Much like other crowdfunding solutions (like Patreon), Memberlite Words allows you to create content and restrict some and all of it and showcase it to your fans.
Since this is a WordPress theme, you have full control over how your solo membership site looks and feels. Plus, you own everything on your site which is a nice change from these more restrictive software as a service platforms.
---
Build your Community
Memberlite Words can seamlessly integrate with Paid Memberships Pro. This opens up a world of possibilities for you to create a community, get paid for your content, and build a Go Fund me styled website.
Create a membership around your content. You are able to accept free membership signups or request a payment for access to some or all of your content.
Build an audience around your content. Use Paid Memberships Pro to require members to signup for content. This will allow you to build a list of members and enable you to further communicate with your audience.
Have you ever wanted to build a "Go Fund Me" or "Sponsor Me" styled website? With Memberlite Words and Paid Memberships Pro – you can!
---
Changing your Profile Image
When you this theme, you are the hero of this story. It is all about you, your content, and your thoughts. Because of this, we decided to add a nice rounded avatar place holder right at the top of the home page.
This image will be added to the site using your Gravatar profile image which is linked to your account. If you would like to manually change this, you can too! Simply login to your site and change the "logo" found under the Site Identity section of your WordPress customizer.
---
Download the Theme